Post by Shinobi on May 9, 2023 22:53:53 GMT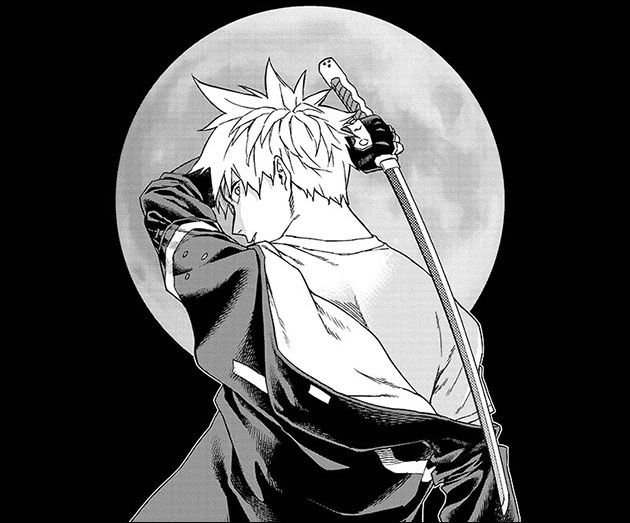 General Information
---
Character Name:
Kigen Ishida
Alternate Name(s):
Whitehead, White-Haired Swordsman, Speed Demon
Gender:

Male
Age:
28 years old
Race:
In-Human
Blood Clan:
Ishida Ichizoku
Weight:
185 lbs
Height:
6'2 foot
Nationality:
Japanese,
Sexuality:
Heterosexual
Occupation:
Mercenary for Hire, Martial Artist
Classification:
Shinobi, Swordsman
Laterality:
Ambidextrous
Relationship(s):
Hagime Ishida (Father/Deceased), Suki Ishida (Mother/Deceased), Genki (Younger Brother)
Appearance
---
Kigen is a Japanese young man of above-average height with silver-blue eyes, short, spiky white hair, a lean muscular build, and a deep egregious scar across his nose that reaches from cheek to cheek. His typical attire consists of a black, blue-trimmed hooded jacket over an white undershirt, with which he sports a pair of dark-colored matching trousers, and
finger-less
gloves with a pad on each of them. On his back, he bears a not-so average sized all black Kusanagi. He also carries around a pouch that is clipped to his belt, inside are various tools and/or weapons.
Personality

---

Calm and collected, Kigen regularly prefers to keep his distance from others due to his social anxiety and lack of understanding of emotions. He feels mildly awkward whenever he's put in a situation where he is required to socialize with others - especially with those he doesn't know. He doesn't talk more than necessary. He is a man of very few words, coming off as emotionless and indifferent to most events, showing a very no-nonsense attitude, getting straight to the point. He's been called out on his lack of social skills multiple times in and out of battle, leaving him in a state of mind.

His upbringing urges him to adapt, perfect, and even mimic different sources of power. An expert in his craft, Kigen shows tremendous confidence and fortitude in any challenge presented before him. His view of the world is based on what he's experienced. More to his unwavering commitment and resolve, Kigen wouldn't back down, choosing to proceed, gain experience even when at a disadvantage. He is donning an optimistic mindset, having the drive to turn the tables on his opponent. At the same time, he is a very astute and intuitive individual, constantly perceiving the situation at hand, determining how best to handle it. He can be cocky at times of battle; only if he's optimistic will he be victorious as a result. Most recognize him as a gifted prodigy with an endless amount of potential.

Powers & Abilities
---
Speedster Physiology:
Speed is a passive ability of Kigen, adapted by his mentor, and father. Over the years, his speed continued to improve. He possesses physiology suited for movement at immense speeds. The cardiovascular and respiratory system is many times more efficient than that of an average warrior. His brain processing speed will most likely be hundreds of times faster than the everyday warrior so that he can operate at immense speeds. The chemical process of his musculature is also highly enhanced so that his body does not generate fatigue poisons, the normal by-product of physical locomotion, which force the body to rest. The joints are smoother and lubricated more efficiently. His body has built an immunity to the stress and strains of utilizing a high frequency of speed; his outfit also has a material that helps him maintain that unrestricted fluidity in his movements.
Supernatural Speed: He can move faster than what is naturally possible. One of his superb speed features is making his body intangible by vibrating his body to a high frequency.
Decelerated Timing: He can move so fast that everything else appears to slow down or stop while he usually moves.

Invisible Speed: He combines his camouflage/stealth abilities with his speed to accelerate to a point where he'd disappear out of plain sight. He is potentially causing a delay in a warrior's senses about where he'd be precise.


Supernatural Physique: Kigen's physical abilities are unnaturally physically superior to other ordinary mortals because his capabilities are far beyond natural levels, making him immensely stronger, faster, and more durable than regular beings.

Adaptive Mind: He can adapt mentally to different situations, conditions, events, and environments, preventing him from being caught off guard during the sudden changes. He analyzes and understands the situation, deducing the most optimal choice of action. This allows him to improve his mental power as he fights.

Indomitable Will: Kigen has unnaturally strong willpower, enabling him to be immune to all forms of temptation, including Subordination Manipulation, Telepathy, Mind Control, etc.

Stealth: Another one of Kigen's domains of expertise, he possesses pervasive knowledge and skill in many types and ways of stealth tactics. Enabling him to slip in and out of areas undetected easily and making him immensely more stealthy and making himself harder to spot than even those with enhanced levels of stealth.


Silence: He is inaudible, either wholly silent or allowing himself only to be heard by specific individuals or make things around him inaudible. From that, he can make his movements inaudible. He is moving in complete silence without disturbing anything.
Tracking Evasion: Kigen can utilize his stealth so he can't be tracked down; all the traces of his passing disappear or are ignored: fallen hair, blood, skin particles, etc., will dissipate into dust, and no scent is given off.
Blade Fanatic:
He can wield a sword with supernatural proficiency in speed, power, agility, and skill, allowing him to perform seemingly impossible feats with ease, such as cutting through nigh-invulnerable and materials, blocking or deflecting things that should be impossible to stop/deflect and even slash targets from any distance. He is a self-taught swordsman, only having been shown the basics. He's even developed a sword style called "
Ittou-Shura.
"
Ittou-Shura
(一刀修羅いとう しゅら
Ittō Shura
, lit. "
One-Blade Shura
") is a Noble Art created by a great swordsman, Kigen's father whom Kigen has adapted and made into his own. By using the art, it allows him to release fast, nigh-invincible slashes with his sword. His body, mind, and soul must be linked to moving all his muscles in unison, which requires being able to control/change his bodies' nerve signals, letting him accelerate himself from 0 to 100 in an instant.
Sixth Sense: "Indigo": By maintaining perfect control of his breathing and having a calm state of mind. He obtains a higher consciousness which allows him to perceive his opponent's actions with ideal vision, using the mind's eye to anticipate and react with the best option in the situation.
Slash Effect | Sword Beam Emission: He can use his blade to fire powerful beams/ blasts of energy/matter.
Breakdown Slash: He can combine destruction effects/forces to attacks with his blade in a way that causes the enemy's body to break down.
Slash Projection: He can project the slashing effect of his blade as if it was a projectile. The projection also applies the specific property he chooses ( darkness, light, etc. ) effects on touch ( death, paralysis, disintegration). Rather than simply creating razor-sharp air currents via movement pressure, this acts as an extension of the blade, carrying its sharpness and properties to a range longer than the biological weapon.


Psychokinesis: One of the Kigen's less used abilities, but used nonetheless, Kigen has been able to adapt his uses of it to carry out his desires - being one of two children that have been destined to be the hope of the Ishida Clan. It is a psychic ability allowing him to influence the physical system, objects, and matter without physical interaction. Because of his consistent involvement of his Psychokinesis, it's allowed him to use different types of kinesis. Even in spite of him using different types of kinesis, he still bares the limits of the brain. However, as he evolves, that limit lowers but will always be there.
Gear & Battle Arsenal
---
Kuro-ko (
黒鋼
lit. "Black Steel"):
It has also been mistaken for the
Kusanagi-no-Tsurugi
("
Grass-Cutting Sword.
") for its similar appearance to the historical
Japanese
artifact. Kuro-ko is a cosmic phenomenon with a straight, foot long blade. The blade itself is made up of a strong alloy known as Metrion. Found inside of a crashed meteor, when it's in a liquid state the material is harmless, but once it cools down and hardens it becomes five times harder than diamond. Heat & Cold doesn't affect it, in fact; it remains cool to the touch. Magnetism seems to not affect it either, however it still conducts electricity like any metal.
Kigen's Jacket:
(Damn, forgot what I was going to type. lol)
Background & Trivia
---
(I'll go more in-depth with his background and I'll post it all once I finish all the chapters... XD)
◉ Born into the Ishida Ichizoku. The Ishida's are a clan of Shinobi, their main strengths are their immense speed and stealth tactics.
◉ Kigen is natural born prodigy, training since he was 5 years old. At a young age he quickly earned the respect from the other members including his father.
◉ After the annihilation of the Ishida Clan, Kigen and his younger brother, Genki both set off into opposite directions. They haven't seen or spoken to one another since.