Post by Fehafare on Feb 23, 2020 2:49:09 GMT
ISIDORE
THE FORGOTTEN PHARAOH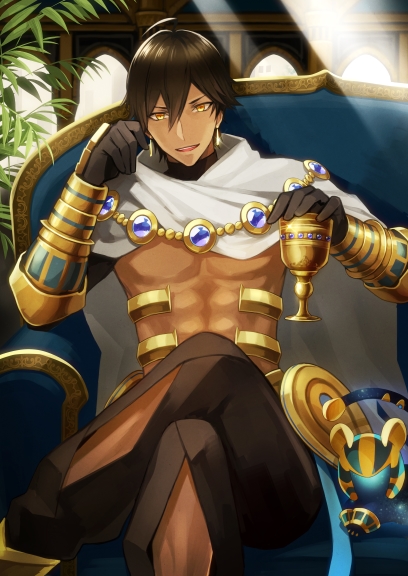 Gender:
Male
Age:
32
Race:
Human
Alignment:
Lawful Neutral
Affiliation:
n/a
Height:
180 cm
Weight:
90 kg
---
PERSONALITY
Isidore appears to be an arrogant man, both by words and manners. This arrogance is not inborn, but rather the result of his upbringing and the circumstances of his life. Raised to be a Pharaoh and then ruling as one, a god-king worshiped by the people, over one of the oldest great civilizations know to mankind. What other than arrogance could be the outcome of such a life. All his boasts and claims of greatness were taught to him as though they are a matter of fact and thus he treats them as a matter of fact. They are truths imposed on him, and truths without which he couldn't be. After all, if he weren't truly great, then he could not have become Pharaoh to begin with. In fact, the absence of arrogance, outside of these matter of fact truths, in Isidore's words and actions can be taken to speak of the man's humility and humble nature.
Above all else, Isidore is someone who craves knowledge and wisdom. He puts in the effort to gain a deeper understanding of both mundane everyday matters, as well as more esoteric and philosophical question, concerning far grander concepts. If he is faced with a problem, he aims to find the most ideal solution. He seeks out knowledge of all kinds, both in the form of practical experiences and theoretical studies. Wisdom is of course just as important as knowledge, and Isidore often seems to prefer it even as he finds the insights in can offer far more interesting and less predictable than what a pure combination of intellect and information can achieve. Beyond his wish for enlightenment, he greatly enjoys reading as a hobby, as well a large variety of games. Chess, board games, card games, any and all manner of strategy games are all things Isidore actively pursues. He also actively seeks out ancient monarchs akin to himself, both due to the kindred nature they share as well as the opportunity to engage in what he calls "kingly dialog". He is very easily amused by things others may take for granted.
He is someone who can very easily laugh at people he'd consider "good", earnestly and without a hint of mockery, while also descending into rage against what he would describe as "unabashed evil". Isidore is very generous and has little attachment to worldly possessions beyond those that belong to him as a Pharaoh. Being a Pharaoh is the one thing he is uncompromising about. Egypt is his kingdom, and its people are his subjects, that is an absolute truth which he will not allow to be taken away from him, even if much of it is a thing of the past. Though he'll jokingly demand fealty from his subjects, his shows a remarkable understanding of the modern times and reacts with lenience to disobedience. In fact he is well aware that the title of Pharaoh has lots its importance a long time ago, but due to his pride as a ruler he refuses to part ways with it. He is not delusional and understands that the people of the modern world have little love for his station. He naturally seeks to establish prosperity and well-being, first for his people and then for humanity as a whole, it is both a duty and a passion for him.
As a Pharaoh, someone who was not only a king, but the incarnation of god on Earth, he has little understanding or love for democracy. In fact Isidore openly rages against the very idea. To him it is a matter of both efficiency, as well as an undue burden being placed upon a populous who of course lack the ability to rule themselves. The only proper way for governance to exist is in the way of a Sovereign, who in turn has the responsibility to act with benevolence and kindness towards his subjects. That is a Sovereign's right and responsibility. Having carried that weight on his shoulders, and having felt the unseen threat of Damocles's sword, Isidore cannot entertain the idea of any other form of government. This also makes him somewhat hierarchical by nature as he believes that every man has his place in the world and that deviations from this natural order only cause strife and suffering for all those involved. His quest for the Library Cities is one he pursues both for his love of understanding and his wish to guide humanity towards a better future.
Isidore is ultimately a well meaning and benevolent man, one who understands many facets of modernity, but also refuses to accept or come to terms with some of them. His strong belief that he is on the right path is what makes it possible for him to be led astray.
---
APPEARANCE
Isidore is a man with a well toned figure, particularly tall for the time he originally lived in. His skin is naturally tanned, and his black hair is kept at medium length usually, reaching just about past his ears. His face has regal features, by far the most noticeable and striking one being his piercing golden eyes. He is capable of exude both intimidation and kindness trough his facial expressions and easily shift between the two states in the blink of an eye. Isidore also tends to sometimes use a modest amount of eyeliner, drawing further attention to his eyes. He is clean shaven at all times.
When it comes to clothing he prefers the clothes he had on him during his awakening. This outfit consists of a simple white cloak which is draped over his shoulders and loose fitting cloth pants, with slits in them to allow airflow and greater freedom of movement. Beyond those two items of clothing he also wears an impressive amount of golden jewelry and a pair of black cloth gloves which cover his arms all the way up to his shoulders. Although he most often leaves his chest completely bare and exposed, if absolutely necessary he does have a tight fitting simple black sleeveless shirt as his main fallback option. For footwear he prefers simple sandals to everything else. Isidore generally has a distaste for modern clothing.
---
HISTORY
The time which has passed between Isidore's birth and now is vast. Yet, Isidore's own life is bit a vague recollection to him, which barely encompasses more than a couple dozen years. Born in Egypt, sometime during the Sixth Dynasty, as an only child and successor to the throne. His parents were in fact brother and sister, yet Isidore was born without any notable defects which often result from an incestuous union. He has no real memories of his childhood, beyond the education instilled in him, meant to both nurture intellect and his capacity as a ruler. The rest of his upbringing is but a blur now. He doesn't remember if he spent any time with his peers or if he enjoyed hunting, chariot riding or archery. Perhaps it was so that he never experienced any of those things and that his education was truly the only thing he experienced up until he became Pharaoh.
Once Isidore had claimed the title of Pharaoh however, things become clearer in his mind. The memories crystallize and he remembers his rule almost vividly. He brought prosperity to his people, he encouraged architecture and the arts and devoted himself to the betterment of his kingdom. Although by all metrics he could have been called a wise and successful ruler even at a young age, Isidore quickly came to realize the limitations of the earthly means as his disposal. Even as he was divine, a god in human flesh, he had no say over the course of the Nile, the will of the seasons or the migration of wild beasts. For his kingdom to prosper beyond its apparent boundaries, he would have to utilize otherworldly means. He devoted himself to studies of magic and the manipulation of the world. He gathered priests and scholars alike and erected grand temples devoted to his research. His efforts bore some fruit and Isidore was soon regarded as as Sorcerer-Pharaoh, yet he found his own accomplishments to be sorely lacking. Though he could use magic, the scope of its reach was not nearly sufficient to transform a kingdom. It was then that Isidore's search turned to a different goal. The Library of Thoth, a grand city spanning library said to be buried beneath the sands, containing the summation of all knowledge, magical and mundane. Isidore devoted the rest of his life to the search of this library, deeming it his most important mission. It became an obsession for him to the point that he neglected his duties as a Pharaoh and often relied on regents and priests to rule in his stead. He saw the library as a means to an end, the ultimate solution to his duties and responsibilities as a Pharaoh. After years of search he managed to track down the sacred place, hidden in the middle of the desert with no markings to set it apart. It was a subterranean city, housing countless books. Despite being buried under innumerable heaps of sand, the city of libraries was clean of dust and was naturally illuminated as though the sun shone directly onto it trough the sand. What he had dreamed for had finally been granted to him, yet it took Isidore but a moment to realize the tragedy thrust upon him. A boundless source of knowledge was put before him, yet even in a dozen lifetimes he could not dream to read through it all.
It was then that he came up with the plan which would change the course of his life. Though he could not explore the whole library as he was now, it had granted him access to resources which may make that possible. Isidore claimed his prize for uncovering the city of wisdom, the all knowing Book of Thoth, a vast record of mundane knowledge which had turned commonplace, becoming the knowledge of humanity. Along with the book, he was blessed with a companion in the for of a powerful Sphinx who would provide council on the matters of magic. It was the Sphinx which allowed Isidore to take his mastery over magic to a new level, while also placing her own knowledge of the subject at his disposal. Armed with these two means by which to achieve his goal, Isidore initiated the last step. He had the Sphinx cast a powerful spell on him, one which would render him a stone statue and seal him away for millennia. Once it was time for him to awake he would do so, blessed with a lifespan compensated by the time he had spent as a lifeless statue. With that longevity he may explore the library in full and perhaps track down other locations like it. Though the plan meant that he would have to leave his kingdom behind, to Isidore it was a small price to pay at this point. He would return one day, and then he would be able to achieve true wisdom for himself and prosperity for humanity.
And so the kingdom of Egypt carried on with its existence, Isidore was forgotten in time and the Library of Thoth buried and lost once more.
Four thousand years later, the Forgotten Pharaoh awoke and found himself in the modern world. Though struck by sheer wonder and amazement at how the world looked now, he wasted no time in resuming the pursuit of his goal. To his surprise, he was not the alone in this new age however. The sphinx which had facilitated his jump trough time had joined him as a stone statue and awoke in the same moment as him. Although the flow of history had taken them far from Egypt, they had a companion in one another and would not traverse the world in solitude.
---
POWERS AND ABILITIES
As a man whose body was blessed by the gods Isidore's condition is beyond that of normal humans. His strength, durability and speed are just out of the reach of what is humanly possible, putting him above professional athletes and strongmen. His reactions is second to none, allowing him to easily respond to most threats. In terms of endurance, Isidore tires very slowly and can go several months without food or drink. His entire metabolism works in a wholly unique way due to his extended lifespan. For four thousand years Isidore will not age a day beyond his prime. He also posses natural resistance to heat, wind and other elements common to deserts.
Although he does not posses great skill as a warrior, Isidore is adept in numerous other fields. Astronomy, astrology, magic, architecture, archaeology, biology, agriculture, anatomy, are just some of the fields Isidore is intimately familiar with, making him a potent source of knowledge even without the Book of Thoth.
For the purposes of combat and problem solving Isidore primarily makes use of his magic and items he has at his disposal.
Asnofre (Human Appearance, Sphinx Appearance)
The sphinx which became a companion to Isidore after he discovered the Library of Thoth. Slightly larger than a fully grown lioness, she posses both strength as well as dominion over various forms of black magic. Although she is powerful and fully capable of fighting on her own, Isidore does not like to involve her in combat. She primarily aids him by offering support in magic and by providing council to him. She often also acts as a means of transport for Isidore. She is the primary source of Isidore's higher forms of magic, but given that the power isn't truly his, Isidore can only access one form of higher magic at a time. After awakening in modern times with Isidore she has constructed a spell to render her immaterial and invisible. She posses a human form which she never used during her life in ancient Egypt, but now she makes more liberal use of it.
Eye of Set
A dark red elliptical hole in space itself, through which desert sand freely flows into the world. Isidore has full control over the sand which he summons into the world. The primary ways in which Isidore uses the sand are either the creation of buffeting sandstorms or by compressing the sand into solid constructs to launch as projectiles. Among his favourite objects to create are obelisks to launch as massive spears or miniature pyramids to drop onto opponents in order to crush them or drown them in sand.
High Form: the sand takes on a cosmic patters of dark blues, blacks and purples akin to Asnofre's sphinx body. In this form the sand is heavier and far more coarse, crushing things more easily but also being able to rend skin and flesh like particularly rough sandpaper.
Eye of Ra
A circular golden ring which freely flies trough the air. The ring is made up entirely of compressed solid light and heat. Isidore has control over the flat ring's flight path and can use it as a long range weapon which cuts trough things with sheer heat, not unlike a laser. It is also capable of expelling great amounts of heat over an area, causing great discomfort, sweating, dehydration and can have a severe impact on stamina and even cause heat strokes under the right circumstances.
High Form: the ring shines like a vivid interpretation of deep space and gains the ability to turn its heat into actual flame. It produces a blue flame which it can emit based on Isidore's will. The blue flames are difficult to put out through conventional means.
Eye of Horus
An eye in the form of a wadjet, also called an eye of Horus. It is jet black in colour and gives on a faint glow. The eye can position itself anywhere in the air and remain stationary floating in place. At Isidore's command the eye's gaze can focus into a beam with matching colours. The beat it emits is one of sheer weight, increasing the effect of the force of gravity onto whatever it is focused on. When focused onto a small area it is potent enough to crush things under their own weight. When the gaze becomes less focused and covers a larger area it is only enough to cause discomfort and slow down individuals, making movements more difficult and tiring.
High Form: the eye and the beat it emits follow the trend of both Asnofre and the other two spells, becoming primarily dark blue in colour and dotted with countless starts and other colours of the night sky. In this form the weight enhancing effect of the beam becomes stronger and the eye becomes capable of focusing intensely enough to momentarily collapse space at a point along the beam. The collapse only lasts for a moment before the empty space is filled again, but the momentary shattering is enough to inflict horrific damage on whatever occupied the space before. After the collapse, the vacuum creates a strong implosion like wind. His collapse of space is easily noticeable by the visible distortion around the area as the eye focuses.
Book of Thoth
The book of human knowledge. The book is in fact two stone tablets held together with bronze rings. It is capable of answering any question the owner asks, as long as the answer has already become the knowledge of humanity. Thus it can provide quick answers which could be considered common knowledge and educate the user on a variety of subjects, but cannot provide insight into things which are not yet known by humans or which are of a wholly personal nature, thus it cannot be used to learn identities, weaknesses, secrets or other things of that nature. Though the answer is fed directly into the user's mind, it is also written out in hieroglyphs on the stone tables themselves. It can be likened to a faster, more effective and more in depth smartphone in terms of its usefulness in regards to access to knowledge.