Post by Fehafare on Mar 26, 2020 1:14:57 GMT
VALI ZAGRIAS
DEFIANT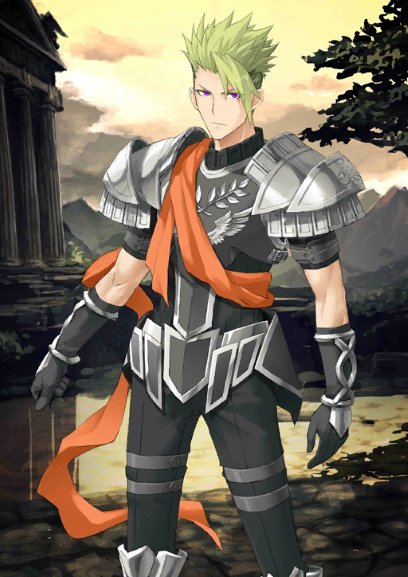 Name:
Vali Zagrias
Gender:
Male
Age:
18
Race:
Human
Alignment:
Chaotic Good
Affiliation:
n/a
Height:
188 cm
Weight:
99 kg
---
PERSONALITY
Despite his potentially intimidating appearance Vali is in fact an exceptionally jovial and friendly person by disposition. Nowhere does his convivial nature shine through more than in his love of games. Vali is a fiercely competitive person and he enjoys turning just about anything into a game of some sorts. Whether it's a simple party game or a contest with his life on the line, Vali approaches both with equal eagerness. It's not even just straightforward games he enjoys, any sort of challenge posed to him or rumor about some difficult to accomplish task will get his attention. He enjoys defying expectations and the attention that comes with it. Surpassing others and himself is his greatest joy. Although he enjoys the fame ordeals bring with them, his primary motivation is still the fun of it, as such Vali even accepts placing handicaps upon himself, if he believes that they may make things more interesting or fun. Furthermore, Vali is not above making bets and wagers of all sorts. He enjoys spicing things up by putting something on the line, whether it's a small token offering or a high stakes gamble. Vali is also a sore loser. He is someone who obsesses over a defeat or loss and cannot let go of it. However victory and defeat only have meaning if they came about fairly, as such he has no interesting in cheating to win, instead he aims to genuinely surpass both his opponent and the version of himself who lost. He particularly enjoys defying arrogance and frustrating those who think themselves too great to fall.
Vali's other love besides challenges and contests is pleasure. He is both dedicated to and easily distracted by the things he loves. Food, drink and women he indulges all with little shame. In fact the very idea of restraint is odd to Vali. He sees it as fear of one's own desires and passions, and so he outright rejects it. Above all things tied to pleasure, he enjoys grand festivals, celebrations and parties the most. They are the ultimate expression of excess, indulgence and joy put on display for all the world to see. Vali will rarely if ever miss the chance to take part in an event like that. His jovial disposition also makes him somewhat aloof in many matters, as he refuses to become grim and take a situation seriously except in the most extreme of circumstances. This also means that Vali is not likely to hold grudges or approach an opponent with malice. In fact if his enemy genuinely repents and shows regret for whatever transgressions they might have committed after they're defeated, Vali can be downright forgiving as he does not like to concern himself with punishment or revenge.
Vali is an honest man, to a fault even. It's not so much that he has a strong conviction about not lying, rather he simply sees no point in deception. His honesty often reaches the point of bluntness and rudeness as he does not sugarcoat things and rather openly speaks his mind. His actions, just like his words, are rarely if ever filtered. Although he's by no means unintelligent, Vali does often act impulsively or without giving much thought to his actions. He is someone who relies on his own instinct more so than pure reason. He is also rather inpatient, as he feels that time spent waiting is time that is wasted. By extension, Vali also becomes bored very easily if he has nothing to occupy his attention for an extended period of time, which can lead to him becoming moody and somewhat aggressive. Although self-improvement and enjoying himself are things always on his mind, his one true goal in life is meeting his father.
Although his personality makes him downright unpredictable at times, Vali can still be a powerful ally to anyone who manages to become his friend.
---
APPEARANCE
Vali's appearance is defined by his above average height and muscled physique. His body is well shaped, and most of his features are marked by sharp lines. This gives Vali an imposing figure without making him look bulky or crude. His face and eyes have an almost predatory charm to them, without being overtly dangerous looking. He likes keeping his green and naturally spiky hair short and his face shaven clean at all times.
When it comes to his choice of clothes Vali tends to pick two particular styles which are contradictory yet also compliment each other. Mainly he wears loose clothes for the comfort they provide, but pairs them with one or two pieces of tight fitting armor, belts or other clothing to keep his overall outfit from being too loose and hampering his movement too much. He is also rather fond of wearing flashy and attentions grabbing clothes as well as bright accessories such as sashes or fine cloaks. For more casual wear, he prefers things like simple pants, shirts and jackets, things that are in the dead center of the comfortable-practical-stylish triangle.
---
HISTORY
Vali's upbringing was anything but normal. He was the son of a witch, Mina Zagrias, and a non-human father whom he never met. Vali had been curious about his father his whole life, and naturally asked his mother about him at every opportunity he got. Mina Zagrias never really indulged him in that regard. She sometimes made up stories and lied. Vali's father was a demon, a god, demi-god, on days when his mother felt particularly sarcastic she made him an angel as well. Vali was never really amused by her jokes and always insisted on a proper answer, but time and time again his mother would tell him the same. Whatever connection she had to his father was a thing of the past now, and the only remnant of that relationship that she treasured still was Vali himself.
When it came to his education, Vali's mother decided that he'd be home schooled. She saw no point in exposing the boy to the mundane world all too much. She knew that he would not fit in anyway, and that the restraints of a mundane environment would only chafe him. Whatever good he could gain from it would not really serve him on the path he was meant to walk in life. She taught him herself about all the things she deemed would be useful for him to know. Her teachings resembled a standard school curriculum, but always had a little bit more added to them. When she taught her son math, she'd delve into kabbalah. Astronomy and astrology were taught together. Chemistry was accompanied by alchemy. History and Geography were infused with teachings about the Hidden World. Vali took to the teachings well, but he was also an unruly and willful child. He ran around, broke things, climbed everything there was to climb and caused trouble at every opportunity given to him. Mina had to resort to magic at times to restrain him and make him sit still. But, she was usually worried that powerful binding could be too strong or harm him, so it wasn't unusual for Vali to overpower her intentionally weak spell and break free. It was difficult for her but Mina managed, secretly she was happy even to see that her son was strong both in will and body. As he grew older his mother decided that it would be good to socialize the boy among his peers. That meant introducing him to the children of her witch-sisters and their coven. Many of them were similar to Vali himself, children who had non-human fathers and had been brought up by their witch mothers. The most common were the offspring of some demon, however Vali got to know all sorts of hybrids while growing up. Although they shared much in common, Vali did stand apart from the others in one regard. Being the children of witches, magic was of course at the forefront for practically all of them. Mina had been particularly excited at the prospect of Vali becoming a powerful warlock or sorcerer when she had noticed that his reserves of magical energy were without compare. But, her disappointment ended up far greater than her excitement once she realized that her son had no talent for magic whatsoever. Despite his immense raw potential, Vali consistently failed to cast even the most rudimentary of spells. Not only that, but Vali himself resisted magecraft as well. While he enjoyed it when his mother taught him the theory of the supernatural or told him stories of all manner, actually practicing witchcraft or magic was simply a chore to him which he had little interest in. Instead of magic he relied on the gift he was born with, one his mother said he had inherited from his father's side.
Although the other children in the coven found Vali somewhat strange at first due to his lack of magical expertise, they quickly warmed up to him due to his outgoing and friendly personality. Furthermore, although they all had him beat in matters of magic, there weren't any among them who could match Vali's sheer strength and physical prowess. Even those who had fathers whose genes bestowed considerable physical strength to their offspring could not keep up with Vali. As the years went on Vali grew close with a select few from the coven to the point that they were as good as siblings.
When Vali came into his middle and late teenage years he began getting himself and some of his friends into regular trouble. His mother's education had primed him to be an adventure-seeker and so that was exactly what he did. Although he regularly was in conflict with someone, his mother seemed to mind little. She enjoyed the idea of her son having an edge to him and she felt she had taught him the best she could. The rest was up to him, to make the best of his life.
And so Vali set out from home to make a name for himself and track down his father.
---
Thanks to his supernatural lineage Vali posses vastly superhuman characteristics in almost all areas. In fact his strength, speed and durability are about on equal footing, with all three stats being exceptionally high without any of them truly reaching the pinnacle of what a superhuman could do. If one of the three were to be put slightly above the other two, it would be Vali's durability as his powers naturally support it. Nothing illustrates Vali's superhuman condition better than the fact that even as a boy he was capable of toppling great trees with a single strike. Nowadays he regularly shatters concrete, snaps steel or tosses around heavy objects as though they were toys. Naturally as someone who spent his youth training constantly, Vali posses the stamina necessary to engage in extended fights with superhuman individuals. His only other notable physical characteristic is his immense reserve of magical energy. Although Vali himself cannot use it, he can share it with others through his bodily fluids, most notably his blood which can serve as a powerful catalyst for rituals and the like.
Vali favours hand to hand combat above all else. Although he does not follow a particular martial art, nor has he mastered any supernatural techniques he does posses fairly in depth technical knowledge on how to properly deliver and large variety of blows or how to execute proper grapples and throws. He makes use of a variety of moves during combat, changing up his approach and style as the situation demands it. Besides his combat prowess, Vali has also been educated by his mother on various matters of the Hidden World and he posses particularly refined knowledge when it comes to the arcane and sorcery although he himself is unable to cast any spells.
Vali's greatest asset however is the gift he inherited from his father.
Another Aegis
A personal barrier or forcefield which surrounds Vali's body at all times. The Aegis is invisible and skintight, practically unnoticeable by others, even to the touch. It's primary purposes is to provide protection to Vali, though the barrier can be used in a variety of different ways as well. The most obvious advantage the Aegis provides to Vali is the fact that it blocks out many harmful effects and substances. As it surrounds his entire body the barrier effectively protects Vali from poison, acid, airborne toxins and even more directly harmful things such as heat or electricity, though the latter two and similar things are only lessened rather than fully negated. Under normal circumstances the barrier is not wholly rigid about his body but rather malleable, meaning that instead of blocking kinetic attacks, it softens the impact of a blow, effectively reducing the damage Vali would take which accentuates his already impressive durability. Vali can at will open portions of the barrier if the situation demands it. Of course if the Aegis sustains too much damage in a short period of time it will shut down and take time to regenerate before it can be used again. Another Aegis is a gift of potential and as such has many different applications it can be tuned to. Although they are technically countless Vali has only unlocked a number of them so far.
Reinforcement
The first and by far the most simple application of Another Aegis Vali has discovered. By focusing Vali can turn a part of the Aegis completely solid and rigid, offering a far greater deal of protection than it normally does. This effectively allows Vali to use his body to block attacks or to deliver powerful hardened strikes. Despite its simplicity, Reinforcement demands a fair deal of power to be pulled off and as such Vali can sustain it for a single attack or block at a time. At the moment he can affect only a single limb with Reinforcement, two if he pushes himself. While Reinforcement is in use Another Aegis has a faint gray glimmer and sheen around the area affected by the technique.
Projection
Vali's favourite application to use and the second one he discovered. Projection is in a way a form of telekinesis, as it allows Vali to extend the range of his gestures and body movements. In practice this means that Vali can deliver a kick at a distance or grab something from far away with his hand. When Vali uses Projection his Aegis turns a dull purple hue for the limb that is affected, and a phantom replica of the limb is projected at the location Vali wishes to affect. Although Vali can use Projection freely and often, he can only perform singular actions each time. That means that he can throw a punch, grab an object to pull towards himself or even lift someone by grabbing them, but once the action is finished the phantom limb disappears and a new action must be performed. This prevents a phantom limb from indefinitely flying around as an entity separate from Vali himself. The phantom limb created by Projection has all the same properties as the Aegis and can be shattered to end its effect.
Tracing
The most complex of all the applications Vali initially learned. Tracing allows Vali to touch any given power or power user in order for the Aegis to temporarily take on the properties of the power in question. While in use it allows Vali to make use of whatever the natural properties of a traced power are while also making his Aegis more resistant to the power it mimics. Considering the complexity and resource demands of this application Vali cannot use it indefinitely. Once Tracing ends Vali has to wait a significant amount of time before he can reuse it. When Tracing is in use the Aegis takes on whatever coloration is appropriate for the power which was traced.