Post by NasM on Aug 30, 2016 10:17:59 GMT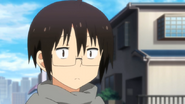 Name:Tristan Khorrin
Age: 16 years old
Height:5'4 ft
Weight:130
Nationality:Canadian
Race:Asian,human
HISTORY
He was given up by his mother so he could be part of the secret world. From birth he was given telekinesis that he didn't know how to control, his mother couldn't come with him since he got the powers from his father who was absent for most of his life. He spent most of his childhood by himself in his house, he had no friends, he had no enemies and his life was boring. One day he lost control of his powers and he was knocked into a coma for 12 years, he woke up to hear that his uncle passed away and he was homeless ever since.
APPEARANCE
He has black hair and pale skin. His hair is greasy .He's skinny and short. He has a scar on his temple where he was hit by the object that put him in a coma,another across his nose.
PERSONALITY
He's duteous and loyal, he gets upset easily and is prone to violent behavior. He has a dark sense of humor because he views his and everyone else's time as meaningless. He easily tunes out, when he does he probably doesn't want to hear what anybody wants to tell him.
POWERS/WEAKNESSES/TALENTS
He is mostly a normal human being but,he has telekinesis
That he can barely use without killing something
. He's a decent marksman and he has an amazing power called situational awareness.